Description
Model: BZ8250HT
Ignite Any Flame Easily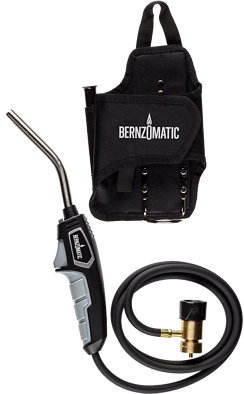 The Bernzomatic BZ8250HT Trigger-Start Hose Torch comes with a 1,5 m (5 foot) hose, the torch provides the user with maximum reach to make any job easier. The versatile torch features an instant on/off trigger igniter for simple one-handed operation and a high intensity swirl flame that provides a hotter and a more efficient flame. The Bernzomatic BZ8250HT Trigger-Start Hose Torch can be used to complete a variety of household projects, including small diameter soldering, thawing, melting and various other heat applications.
The Bernzomatic® Reach Torch is equipped with an adjustable swirl flame and a continuous flame lock option. It also has a flexible hose and fuel holster and is pressure regulated for inverted use, making overhead and extended-reach work easier.
It is ideal for small to large diameter soldering, large-surface work, metalworking, brazing and woodworking projects. The Reach Torch is compatible with Bernzomatic MAP-Pro® fuel and Bernzomatic Propane fuel, each sold separately. Limited Lifetime Warranty.