Being able to hold your workpieces while working with steel is very important for accuracy, precision, control, and most importantly – safety. Users may have different needs for their machinist vices, this is why we have put together a range of various metal working engineering vices to suit your every need. Whether you're a beginner or master metal worker, this list will help you make the right decision for your workshop.
For the beginner and aspiring metal worker, Pony has a great selection of good-quality vices at very affordable prices.
Pony 75mm Light Duty Clamp On Vise
The Pony 75mm Light Duty Clamp On Vise is designed for light-duty home, shop, and professional use. It is fully portable yet mounts easily and securely on edges up to 2-inches (50mm) thick. The 75mm jaw width, 63,5mm opening capacity, plated steel screw and handle, steel double guide bars allow smooth operation, orange baked enamel finish prevents rusting, cast pipe jaws hold the round pipe.
Pony 75mm bench Vise Swivel Base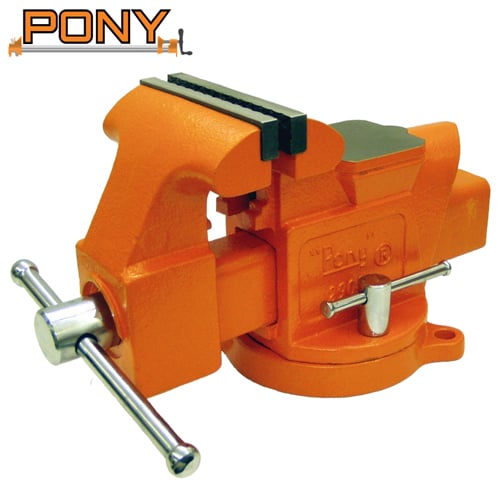 The Pony Adjustable Light-Duty Bench Vise with Swivel Base swivels a minimum of 270 degrees on a square four-hole base, sturdy steel jaw faces, forming a horn and permanent pipe jaws and the casting has an orange baked-enamel finish, all hardware is. Lock-nuts allow the vise to swivel a minimum of 270 degrees on its base.
Premium Heavy-Duty Vices
For the machinist and metalworker that requires the highest standard of build quality, made with durable materials to last a lifetime – the Groz, Record and Black Steel Vices are the ideal companions to the workshop.
Groz Heavy-Duty Engineer Bench Vices
Made with an all-steel body construction with an integrated anvil, these vices are built to withstand the toughest use. The Groz Heavy-Duty Engineer vice has a front jaw beam with machined construction that fully encloses the vice spindle protecting the threads from contaminants and damage.
These vices also include a long unbreakable malleable iron nut securely locked in the body which ensures maximum thread surface contact and constant alignment between body and sliding jaw. The perfect alignment of the vice's main screw and nut reduces wear and gives long trouble-free service. The Groz Heavy-Duty Engineer Vices have an attractive blue finish with a chrome-plated main screw and handle. These Groz vices also include features such as a safety stopper at the end of the slide to prevent the slide from falling. The tommy bar on the Groz vice is also forged to add extra strength.